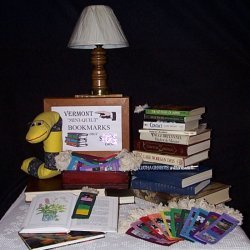 (This is currently a test page)
What a wonderful and unique idea!  A colorful piece of Vermont quilting for every-day use while indulged in that novel, or to mark your place in that school book. No two are the same with a vast array of crazy-patch pieces in each, and a fun cotton rope fringe, too!!!  Quality crafted in Vermont USA!
Each bookmark is crafted with different fabrics, and topped off with a 1 to 2 inch cotton fringe, then topstitched with a decorative stitch in a corresponding thread color around the edge for durability. Each is different, as the fabric scrap choices are a grab bag of colorful swatches! Unique to Long Meadow Farms Quilts, these Vermont Mini Quilt Bookmarks please young and old alike!  They make a wonderful and thoughtful little gift for mom, dad, grandma, grandpa, aunts, uncles, brothers, sisters, sons, daughters, teachers, students or friends!!!

(Note: This is the new Long Meadow Farms site which is currently under construction. Please be patient while we get it together. Currently the Cobble Mountain Hammock Chairs page as well as the related price and shipping pages are fully completed.)